Tea Ihalainen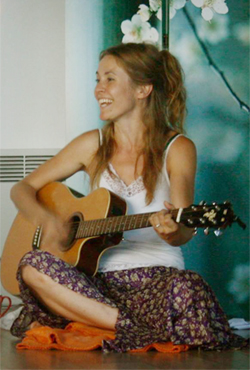 Tea Ihalainen is an experienced musician. Her capacity to lead a circle and hold a space for others is unique and expetional. Over the past 10 years Tea has studied the power of mantras and she has shared this magic to thousands of people in Finland and abroad.
  Tea's main instruments are guitar and vocals but she also loves to play keyboards and harmonium. In her repetoire are over hunderd sacred songs from all over the world as well as her own compostions.
​
Tea's work as a leader of a circle is supported by her studies in various fields as suchs as yoga, meditation, bodywork, regression and other forms of therpay, craniosacral ostheopathy and shamanism.
​ Tea's way to work is gentle, inspiring and uplifting. She is also able to create a safe place for others to experience the depths and hights of the human being. With Tea's gentle guidance the circle is able to make a journey through the time and space where realizations and healing is possible.
​ At the moment Tea is prepairing to relase her first Highway to Bliss -album.